Professional Mobile Application Development Services in Niagara Falls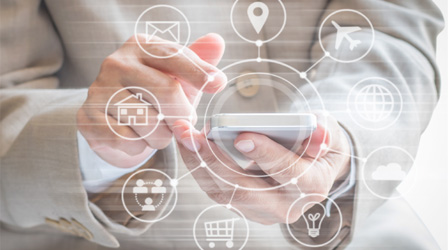 Do you have an idea for a Mobile App? Do you want to make a successful app out of your idea? You have come to the right place. White Shark Media is a leading mobile app development company in Niagara Falls.
We will help you transform your idea into a reality, making it available on all Android and iOS devices. A successful App requires a strategy and planned execution, we will do it all for you, meeting all your business needs and ideas.
How Our iPhone Apps are Perfect for Small Businesses
Apple store is flooded with downloads round the clock, since its Apps are something to watch out for. For us, our customer's business needs and goals are top priority and we serve you the same, providing Custom & Native Apps.
Our team is always ahead when it comes to technological advancements in iOS. We remain updated on all the versions and launching of latest devices, providing latest tools in developing Apps. .
We have a skilled team of UX/UI designers who will give your App a beautiful and responsive design, which makes it available across all iOS devices including iPhone and iPad. Whether you want to develop a new idea or add features and functionality to the existing App, we do it all.
Tap into Mobile Customer Base with an Amazing App! Get in Touch Today!
How We Develop Enterprise Grade Android Apps?
If we talk about the biggest operating system and platform for all the smartphones out there, Android is the name for it. Android having the biggest market, creates great opportunity for the Apps to get maximum coverage.
We develop Android Apps for all sectors including travel, retail, gaming, e-commerce, advertising, audio-video streaming, messaging to multimedia Android Apps.
At White Shark Media, our team of developers in Niagara Falls not only make Apps but provide support and maintenance to your existing Apps. Our skilled team of professionals use Android development tools to get the maximum out of a product and service, using SDK platform.
We help you in reaching your targeted audience in no time. Thus, boosting your sales and roping in benefits for you.
Why Hire Our Mobile Developers?
Ambitious – We are never satisfied with the latest and keep on working to find those unique tools and features.
Timely – We respect our customer's time and provide services at the earliest as we know time is money.
Creative – We have design and features which are unmatchable and out team is always looking for that X-factor.
Pricing – We never overcharge you for anything as we believe in fair trade practices and upfront fair pricing model.
At White Shark Media, our mobile app developers are dedicated to developing powerful, highly usable apps that resolve business problems, attract users and empower your brand. Rest assured, our cross-platform apps work seamlessly on both iOS and Android platform. We are here to craft top-notch mobile experiences.
Make a Custom App for your Business Idea! Reach Maximum Mobile Customers!