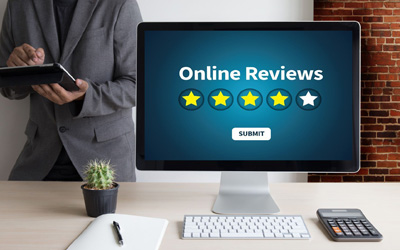 Online review plays a vital role to determine the quality of any brand, product or business. 93% of consumers read the reviews before making it deal. The review raises a demand, generate the trust and give the opportunity to learn more about the nature of the customers. A good review enables one to make a connection with the users and increase traffic to any business. It depends on the owner how they take the reviews and use it to empower business. Here are the best known 8 methods to convert online reviews work in your favour.
Google My Business Listing Reviews
Google is the most popular where more than 64% of consumers check the reviews before visiting a particular business website. To control over the Google reviews, build up 'claim your Google My Business' page. It enables you to monitor, respond and maintain the reviews. It works like, your business review will display on Google and Google Map search results, this will go providing credibility and quality of your business. Your reply will directly post under the review of the consumer as 'response from the owner'.
A Glance At The Major Review Sites
No doubt, Google is one of the popular places for review but there are several other sites where you can create a claim to your business listening page. The major site for review are Yelp, Facebook etc. If you are offering a particular product, you can find reviews at the online e-commerce websites like Amazon etc.
Work On Current Reviews
Most of the consumers get influenced by the current review should not be older than 90 days. When you determine to patronize a business, Google uses the frequency, quantity and diversity of reviews as a ranking factor.
Respond To Consumer's Review
The major benefit of responding to your consumers will be improving your image and enable you to connect with your customers. Additionally, you can improve your business rating and increase sales. Technically, responding to reviews will increase 0.12-star rating and paid search conversion.
Handling Negative Reviews
A negative online review cant directly affect the bottom line of a business. Its best solution is to respond the bad reviewer for sure but politely and try to fix the issue solving the misunderstanding. In case the negative review is posted by your competitor or former employee then you can concern the host site take it down. This is the only solution to handle this competitor's bad review because this is a prolonged process takes no guarantee of success. .
Use Reviews As Proof Of Good Services
Let people show what they want to see. Use these review on your site to make people trust on your website, brand, product or business by displaying the positive review. It is better used as the comments from the satisfied customers showing in your testimonials and case studies.
Improve Your Star Rating
You may work hard using the latest tools and technologies to improve your star rating. Most of the consumers consider businesses with at least a three-star rating. Businesses with an average 4-star rating carry a conversion rate of 12.8% for AdWords ad.
Get More Reviews
An average of consumers trusts on a business only if it has at least 34 reviews. However, you are already working hard to improve your business, but improving online reputation can become easy by increasing the number of reviews on your site. So, in order to get more review, ask your consumers to leave to a review answer to a direct request from the website or business owner. You can also ask your consumer for the review via an email or send a link.
On an account, you can reach to White Shark Media for any help in using the reviews to empower your business and improving your online reputation.