Are you looking to raise your brand awareness and value, indeed? Perhaps, your website needs a good SEO. Yes, SEO can be tricky for many of us! Yet, it is essential once you have a website for your brand or business. SEO helps improve your brand's website's rank and increase the traffic on the website to increase sales and, consequently, revenues.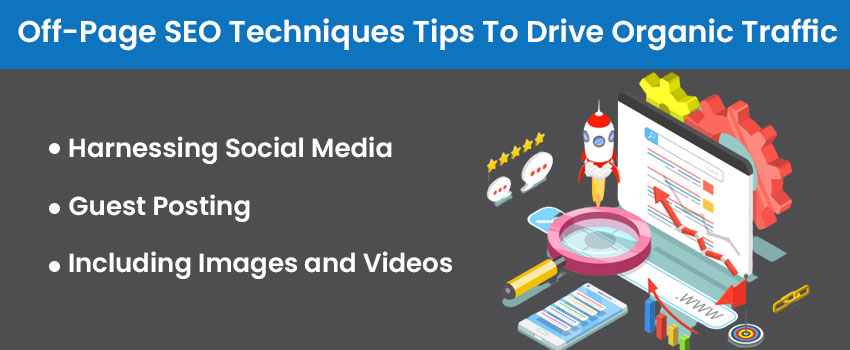 A genuine brand can highlight and create more potential customers only when the website's SEO is done right. We all are focused on On-page SEO for the same purpose, and we forget how powerful Off-Page SEO can be!
Here in this article, we shall learn about Off-Page SEO techniques and SEO tips that can help drive more and more traffic to the website and make more clients. Continue to read and learn more about Off-Page SEO.
The one thing that we forget when it comes to writing blogs for websites is creating links. Two things come under linking- Internal Linking and Back Lining. Internal Linking is connecting or linking two blogs with each other to improve its credibility. Whereas Backlinking links your pwn website blogs with other website blogs or elements with higher domain authority. The links are two types- No-follow links and Do-follow links. The no-follow links say the search engine crawler to ignore the link.
Linking is essential and essential for a website. Plus, Google considers linking as one of the topmost factors for judging ranks for websites. It is above the principle of creating quality content and crafting manner.
Harnessing Social Media
No one shall or can let down the power of social media. People are more active and attentive on social media platforms. And, almost every kind of client is on social media these days. Thus, it is easier to reach a vast pool of clients and potential customers via these platforms. They help in winning over the clients and generating more revenues with a quality product or service. Platforms like Facebook and Instagram has almost become the market place for most businesses. Brands and companies focus on these platforms to attract new customers and also keep the existing ones engaged.
Guest Posting
Content is the King! You cannot forget that. The guest blogging helps in providing advantages to the brand and business to brag about itself. With fresh and relevant content on different guest blogging platforms, the brand can reach customers more and bring in more traffic. Thus, it becomes a win-win situation for the brand and the platform. It helps in triggering more organic results on the website. A little professional writing assists in displaying and contributing more about brand and business.
Including Images and Videos
Besides content, websites are also looked at and judged upon by the inclusion of visual elements. Thus, this is where images and videos come into an advantage. We have seen recently how Instagram Reels and indulging in Facebook Live sessions has increased. This is all because visual elements are appealing to people and customers. Also, infographics and content converted into images is also essential.
Due to their busy lives and hectic schedules, people are more indulged in hearing what is written. Thus, the videos and the recently got popular- podcasts are beneficial. This will helps in improving the website rank and thus bring in more organic traffic. If your product and services are what people want, you can have something viral about your brand and businesses.
Conclusion
Are you looking for a professional to help and guide you in Off-Page SEO or even do it for your website, then you must contact WhiteSharkMedia. Get the best and trustworthy solutions for Off-Page Solutions for your website.
Look for Off-Page SEO St Catharines at White Shark Media, and get SEO Traffic St Catharines too without any hassle.